Tripawds is a user-supported community. Thank you for your support!
With a hint of a bright future, Sunday morning dawned a little chilly but glorious and full of sunshine. Oscar thought it would be a good day to go OUTSIDE (spoken in his voice) and since I needed to vacuum, my husband obliged him 🙂
My husband, the dog, and Oscar made quite the team. They tromped all around our yard, over to the horse pasture, and back to the hay barn. Since all that walking around is tougher when you have three legs, a short respite in the sun was in order. My husband said Oscar was so happy to be outside and just purring away. He did try to make a break to catch mice in the hay barn but was quickly scooped up.
Once back inside, he promptly curled up in his bed and slept for the rest of the afternoon! He is doing so well and is generally a pretty happy kitty. He's also learned that like the other two cats, he can sleep on his humans' bed sometimes. What a nice soft place to curl up and it's a little bit cool in the room, just the way he likes. He also got to watch a movie with his humans so he could spend some time sleeping upside down which is his favorite way to sleep when it's warm and he feels safest.  Awww…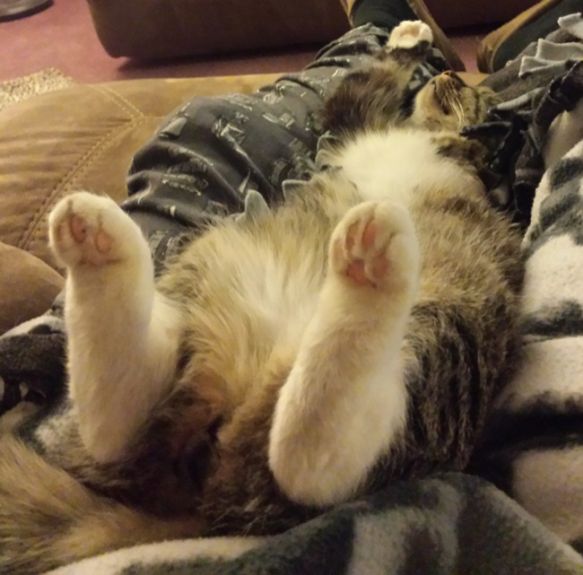 All in all a good day for Oscar!
Also, today (Monday), he went to the veterinarian to have his stitches taken out and all went well.  On to getting the incision all healed up.